Are you looking for a new augmented reality (AR) game for iOS? There are many options for your iPhone or iPad but here are some of the best ones:
1. ARBasketball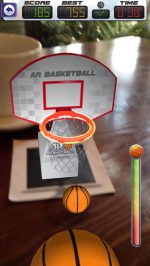 This is an AR basketball game that requires you to aim your iOS device's camera at an empty area or field. It will then build an artificial basketball hoop. How do you play the game? You must first click on the link to print a marker. The process is 100% free.
Then you can see the hoop where you've put the marker. You can play the game by swiping the display screen in order to toss the ball. The goal is to make as many points as you can. There are 3 different modes including multiplayer. There are also global leaderboards that let you review your progress and play with friends and social networks. The game also supports Apple's retina display.
A key feature of this game is that it automatically saves the game's progress when you exit the application or get a phone call.
The graphics and sound are smooth. That said, the single player mode should probably be more challenging. There's a similar game named "Paper Toss." Random winds make the game tougher. When playing this hoops game though it's hard to miss after you've found the right slider setting.
Still, this is an excellent AR game for your iPhone or iPad. It's definitely one you should consider playing.
2. Parallel Mafia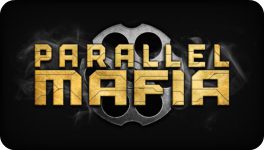 Here's another free AR game for iPhones and iPods. If you've ever watched "The Godfather" and wondered what it's like to live in the criminal world, then you should check out "Parallel Mafia" by PerBlue. This game gives you the chance to become the boss of a group of gangsters.
There are lots of actions you can take in the game. They include launching your business, constructing fronts, or earning a reputation. Whatever you do you'll certainly enjoy playing this game as it's quite thrilling.
You should note that this isn't a standard mafia game. There are some similarities to "Parallel Kingdom" but also some significant differences. For example, both of the games are located-based MMORPGs.
"Parallel Mafia" provides several benefits though. For example, hospitals might show up where real world hospitals are located. When a new player moves to the real game after completing a tutorial they've transferred to a region that's based on the personal's real world location. For example, if a player moves two hours south the player can have their in-game avatar moved to that new location.
All of the data is collected from the map, which shows some of the advantages of using a real map. This also makes the playing board as big as the world and helps players to connect with their locations. For example, after completing the tutorial you might want to claim the location and construction some type of structure.
3. SpecTrek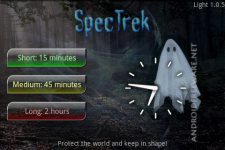 This is a ghost-hunting game. You'll need GPs and your camera to catch virtual ghosts while you're in real world environments. You can hold your map like you were reading a paper map. That will switch the game to radar mode to make it better to track shades.
This game creates an interesting environment than can play for several hours without getting bored. It's definitely one of the best AR games you can play for iOS.
This is an excellent game to use as a fitness app and/or have some fun outdoors. If you're not ready to buy the full version you can also check out the free light version to see if it's worth moving up to the full version.
The game's options are clear and allow you to play 3 types of games ranging from a 15-minute mini game to a 2-hour game. After setting the game length you can set the arena. It draws a circle around the current location. It can also be set anywhere you want if you want to move the boundaries to public areas.
You must also enter game mode. It's split between the game map as well as the capture screen. When you hold your iPhone downwards you'll go into the map mode. That shows the current location and the where ghosts are located on the map.
4. Geo AR Games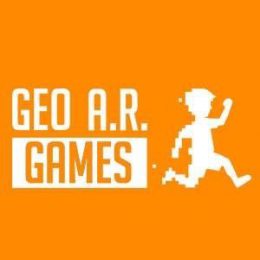 This AR game from Geo is an incredible experience for mobile gamers of all ages. You can quickly transform home garden or city park into an incredible world of amazing landscapes and unique animals. The Geo augmented reality gives you the chance to create your own fantasy world. In fact, the possibilities are basically endless when playing the game.
The developer explains that its goal is to motivate kids to get exercise by playing their mobile games outdoors. While outdoors they can also have creative fun by playing "Geo AR Games." It wants the Internet of Things (IoT) to also include real world objects instead of only virtual ones.
The company states that its mission is also to get the full support of the community in the process of game development.
5. AR Defender 2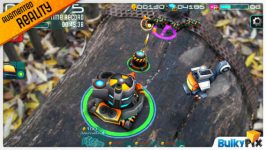 Here's another multi-player AR game you should consider for iOS devices. It's a tower defense game that is AR compatible. You must use strategy to place your defenses. That will help to keep off attacks and the enemy at a distance from your tower.
You can basically play this game anywhere. You also have the option to choose between the classic mode and AR version. There are 6 characters you can unlock. Each of them has a unique style. You can also battle against 15 different kinds of enemies.
This game is fun to play with several friends. The game runs well and is ton of fun to play. One drawback is there's no option to make the character fix structures by themselves. It can be tough when you have to put your hero next to an object to be fixed then hit the "repair" icon.
6. Real Strike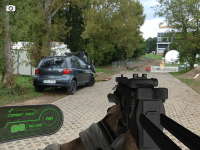 This AR game is the first 3D First Person Shooter (FPS) game. The game uses the device's camera to create an FPS experience in the real world. The game has a mix of 3D gun animations and the camera turns a street or area into a military base. "Real Strike" includes 25 guns you can pick from 6 different categories.
You can also change your view. That's by selecting thermal vision, night vision, or tactical flashlight. The firing can be a little sensitive but is quite smooth and accurate. This is a plus for gamers who are looking for those features.
7. Paintball Arena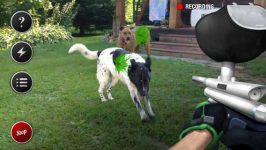 This is a multi-player shoot-em-up game. You can get currency when you finish missions while playing with your buddies. You can then use the currency to unlock brand new paintball guns and paintball grenade launchers.
You can play this game in any environment but you'll need a Wi-Fi connection. In order for the game to detect your opponent, you must note his/her shirt color. That will get the ball rolling so you can start enjoying this AR mobile game.
The next step is to pick a game mode. You can do that by selecting unlimited time or a time limit. Then the game begins. This causes your phone to vibrate. If you want to reload your weapon you have to shake your phone. : This is an important action in the game so it's one to keep in mind when playing the AR game.
One interesting feature of this game is that it's a cross-platform title. So you can play it on iOS and Android. That's a plus if your friends have non-iOS phones but want to join in on the paintball game.
8. AR Race 2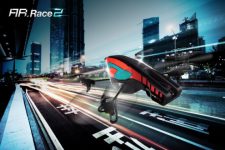 If you're looking for a flying AR Drone then you should consider this app for iPhones and iPads. You'll need a Wi-Fi connection for this game. There are 2 game modes. There are the timed race and free flight. When the area you select has buildings, trees, or rivers, they become part of the track. This is an excellent app. You can make the drone do all sorts of tricks in the air by doing a double tap on your display screen.
This game provides an amazing experience for gamers. In fact, it's much easier to play the game than you might expect. The controls are smooth and precise.
You also won't have to worry about the quality of camera as it works well with unit's camera. You won't have to attach an action camera to the phone, which is a plus. So don't worry about the overall power of your iPhone camera since it will be good enough to play this game.
9. AR Invaders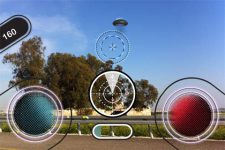 AS the name suggests this is very similar to the classic game "Space Invaders." Your goal is to team up with Earth's resistance so you can protect the planet and fight through tons of invading aliens.
You can play this AR game in 2 different modes based on your current position. If you're standing the game is played as a 360-degree shoot-em-up. Meanwhile, if you're shooting then it's an 180-degree view that requires you to defend your base.
The biggest issue of this game is that you're unable to move your saves to your SD card. That's because it tends to fill up your iPhone's memory very quickly. This game is available for both iOS and Android platforms.
10. Zombie Go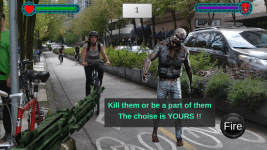 This is a free shooter game. It features zombies, which have become one of the biggest hits in today's gaming industry. "Zombie Go" is one of the top AR shooters for the iOS platform. In this game zombies popular from everywhere and try to get you. Thus, you must use different weapons to keep them away.
Keep in mind that is basically a zombie version of the hit game "Pokemon Go." Since the Niantic game was launched fans have been looking for other versions of the title. This is classified as a real-world zombie game and an AR shooter. You can hunt down zombies anywhere in the world including your home or job. You can power up to take on the zombies using your iPhone camera.
11. Ghostbusters: Paranormal Blast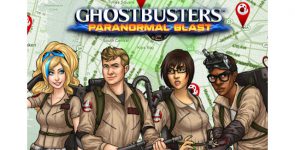 This is another free AR game based on the franchise whose first game was released in 1984 by Activision. This AR game for iOS allows you to find paranormal creatures in your neighborhood then use a game-changing weapon to defeat them.
The game isn't just about hunting ghosts. Players must also finish missions, earn some rewards, and upgrade weapons. If you're a fan of the movies then you'll definitely enjoy this game.
12. Toyota 86 AR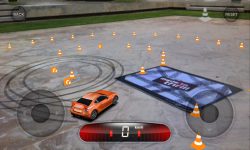 Here's another AR game that's available for iOS devices. You must first visit a link to download/print a marker that's named "Made to Thrill." Then you just put the marker you've printed on the floor. You're then ready to start playing the game.
This game creates an augmented track for test-driving. You can then practice your driving skills. The controls of this game are quite basic and easy. Soon you'll be able to master the virtual track. This game is quite fun for gamers to enjoy.
The game has solid graphics, excellent control, and is a generally good AR game for iOS devices. You can also surf the site included with the app in order to learn how you can make "Toyota 86 AR" films then upload them to YouTube.
One of the benefits of this game is that it's cross-platform. So you can play it on both iOS and Android devices.
13. Parallel Kingdom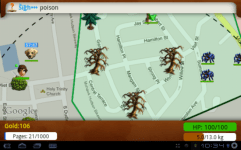 Here's another augmented reality game for iOS devices. It combines the features of geolocation and strategy games. The RPG title allows players a player to claim territories based on where they're currently located. It's based on a real map of the player's neighborhood.
As the name suggests this game gives you the chance to build your own kingdom. You must create a strategy to develop your kingdom. You can also trade/fight with other kingdoms to achieve your realm's goals.
14. Zombies Everywhere! The Augmented Reality Apocalypse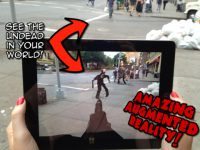 Here's another iOS AR game you should consider playing. The game uses AR to put tons of zombies all around you. They move toward you slowly so they can eat your brains. The game was made more diverse by adding tougher and more powerful zombies the longer you survive in the game.
There are also different kinds of creatures in the game. They include undead dogs, mummies, and others. When you kill zombies you can also unlock various kinds of weapons.
The game includes 2 modes. The first one is a basic survival mode. The second is a "safe" mode that requires you to attack/kill zombies. However, the zombies won't harm you.
15. Pokemon Go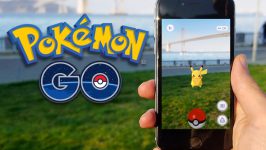 Last year Niantic's hit game became the all-time biggest game in mobile history. In fact, the game broke several Guinness world records and earned tons of money.
"Pokemon Go" is a GPS/AR game that puts the game in real world environments. The goal of players is to catch and train different Pokemon, then battle other players. The franchise has been around the first "Pokemon" games were launched for Game Boy in 1996, but the new AR version brings a new twist to the game.
Another plus of the game is it's free. So you can start searching for pocket monsters without spending any pocket money.
"Pokemon Go" has received several updates since its launch last year. In fact, the app is often getting updates for new features and language support. For example, you can now tap on a medal to show your progress towards the next one. The developer is constantly adding new features to improve the design and gameplay.
If you have an iOS device these are some of the top AR games to try out.