Are you a fan of virtual reality (VR) games? Today there are all sorts of VR mobile games available. Here are some of the top ones:
Google Cardboard
1. Sisters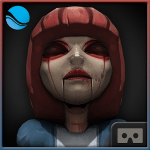 The tagline of this game points out that you have to watch out where you look because there's something that wants to keep you away The game is basically a tech demo since it only lasts a couple of minutes.
That said, this is a great app if you want to show off Cardboard to your family and friends. "Sisters" functions by using binaural sound. So it seems like the sounds are originating from your left or right rather than all directions around you.
This is a great game if you want to be scared. That's due to immersion the fidelity from Cardboard. The title doesn't include actual gameplay. That said, it's still an excellent option if you want to see supernatural horror.
2. BombSquad VR for Cardboard

"BombSquad VR" is an arcade game with some platformer elements. The goals of the title are to avoid bombs, collect flags, and have fun playing the game. The game can be played with a maximum of 8 players. You must finish each of the levels via competitions. In many ways, this game is like "Mario Party" but includes a lot more explosions than the Nintendo title.
The VR app has a $3 price tag but you also get the BombSquad Pro game unlocker that's included. That lets you also play the version that's non-VR. This game
3. Vanguard V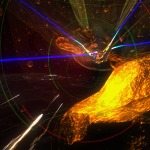 This is from the same developer as "Proton Pulse." It's a shoot-em-up rail shooter that's set in the third person. The game requires you to fly around space environments and shooting enemies. The most interesting part of the game is that it's free. Not only that, but there are no in-app purchases as well.
4. Proton Pulse

"Proton Pulse" uses head-tracking tech to control a paddle on the game screen. The game's concept might sound like the old-school game "Pong." The idea is similar but this is easily the most extreme Pong-like game that's ever been developed.
The goal is to bounce different items back to their origin. This is an excellent game for showing what Google Cardboard is able to do. The game also only costs $2, so it's worth considering and will help to fund future titles from the company.

5. In Mind VR

This game lets you travel through the brain's neural pathways searching for physical problems. That's the goal of this arcade shooter for Google's VR headset. Your mission is to neutralize problems so the brain is as healthy as possible. Meanwhile, you must also use runner mechanics while playing the game.
Keep in mind that you don't need Cardboard to play the game, but the gameplay is enhanced if you have the headset. Not only that but the game is 100% free and doesn't include in-app purchases.
6. Adventure Time: I See Ooo VR

The price tag of this game is a bit steep at $7.48. The majority of Cardboard titles are usually cheap. That's mainly because they're supposed to be previews of VR games instead of total experiences. "Adventure Time" is different in terms of the price.
However, the game's length is about the same as the standard one. This is basically 2 VR mini-cams and one puzzle. That said, the developers have done a good job on the VR game. If you're a fan of the Cartoon Network series then you'll also probably enjoy playing this game.
7. BattleZ VR

"BattleZ VR" is a first-person zombie shooter. The game also includes dragons, which helps to make the game more interesting. The story and gameplay are quite basic. Gamers must use the VR headset and a special remote, which can be built or bought
The game includes different modes. There's the single player mode if you want to play on your own. You can also play with other gamers in the online mode.
One of the main benefits of this game is that it's 100%. You could factor in the cost of building/buying the controller. However, it won't have a sky-high price tag so it's not really something you should worry about.
8. Chair in a Room

This game boosts the limited controls of Google Cardboard and. You start the game in a room. There's one light and chair at a table. The entire game takes place in the room, but it's quite a terrifying experience.
When reading newspaper clippings you follow the story about a young girl who was kidnapped. Then the light starts to flicker and you must use your flashlight. That problem is that the flashlight must be recharged and during that time you're sitting in a dark room. There are strange, creepy sounds all over the room.
"A Chair in a Room" does an excellent job making the game scary. That's the scary setting and basic control system. This is definitely one of the top Google Cardboard games to pick.
9. Caaaaardboard!

This $2 VR game works well with Google Cardboard. It's a customized version of a similar game built for VR headsets. "Caaaaardboard!" is a fun and immersive title that has gamers doing stunts while diving off buildings.
The VR game uses tilt controls so it's a hands-free experience. It's also one of the most intense VR games available for mobile devices. The game can become a bit tedious sometimes based on some user reviews. Besides that, it's an excellent VR game to play if you're getting started with VR games.
10. End Space VR

"End Space VR" is a space shooter game that puts you in the cockpit as you battle enemies in outer space. The VR title is endless as you continue you'll go through different waves of more difficult enemies.
The game also gives you the ability to upgrade your ship as you play. This is one of the top Cardboard VR games available and one of the key perks is that there aren't any in-app purchases.
11. Cyclops Duck Hunt

This is another free VR game for Google Cardboard. It's a reimaging of the NES classic game "Duck Hunt." IT includes humor and visuals that make it a great game for the VR headset. "Cyclops Duck Hunt" is set in a post-apocalyptic world. Alien ducks have arrived to cause trouble.
The player takes on the role of a cyclops who just woke up to learn that the world is in trouble. He must do everything he can to prevent the alien ducks from destroying what's left of the planet.
Samsung Gear VR
1. Temple Run VR

"Temple Run VR" is based one of the all-time most popular mobile titles. It's now available for the Gear VR headset. The new version is worth checking out. In this game, you're running away from a snow monster and in order to avoid being eaten, you must dodge fallen rocks and gaps.
The big difference in this version is that you're having a first-hand experience. You can even look over your shoulder into the eyes of the creature. The swipe controls on the Gear VR touch panel aren't the best. That said, if you play this game while standing up you'll have an immersive experience of running away from the snow monster. This game is also free.
2. Omega Agent

"Omega Agent" is a bit pricey at $10 but this game gives you the chance to be James Bond for a while. "Omega Agent" puts you in a jet pack and lets you fly through the skies. Your mission is to fly through the air and use spy training to test your skills as a secret agent.
The game includes several secret tasks and hidden areas that you can find. This game can become fun quickly and can be played a long time due to the hidden objects. A VR controller is required to play the game. Even though there's a lot of movement you won't get too dizzy and you can do a lot of exploring in this fun VR environment.
3. Land's End

Here's a $6 game for Gear VR. It's an adventure-puzzle title from the developers of "Monument Valley." In this game, you search/explore landscapes that could originate from the latest Zelda game. You must also solve several puzzles/challenges.
They range from fun to tough puzzles. The backdrop is the world that keeps the game fun to play. The VR experience that this game provides is relaxing and nearly calming. It offers a break from the stresses of your everyday life. There are many calming landscapes that you can look at. That's after you've solved the latest puzzle.
4. Balloon Shooter

This $2 VR game for Gear VR headsets is a first person shooter. This puts you in the middle of the action but it doesn't involve heavy weaponry like assault rifles. Instead "Balloon Shooter" includes a cartoon-like bow and arrow and provides a ton of fun for VR fans.
In "Balloon Shooter" you float through the game and must use your touchpad to take out enemies using arrows. The world includes prize crates to upgrade your bow. This helps to add more variety tot the VR game.
Another plus of the title is that it allows you to use the 360-degree scope of Gear VR. This allows you to spin to shoot at enemies in different directions. This is a fun game that both kids and adults can enjoy because it's exciting yet doesn't have the blood/gore of most shooters.
5. Minecraft Gear VR

This $7 game is another great title for Gear VR. If you're a "Minecraft" fan then you should check out this game. This VR game offers a new and exciting version to try out. You can get a great view of your builds after you complete them. This version offers a level of freedom that's close to the Pocket Edition for smartphones.
There are Creative and Survival modes in this version. You can get closer to the world surrounding you better. In order to navigate and interact in this Minecraft world, you'll need a controller. That said, the game's 360-degree audio makes the title more immersive.
This is definitely an excellent option for fans of the "Minecraft" franchise and is one that will make it difficult to play games on a flat display screen.
6. Duck Hunter VR

"Duck Hunter VR" is another great game for Gear VR. It's a VR version of the NES classic game. This is a first-person shooter. The difference from standard shooters is that you must shoot ducks as they fly in front of your gun's sights.
It's a fun game and becomes quite addictive as you get to the higher levels. All you have to do is tap on the touchpad of the headset to pull the trigger. There are also bonus ducks that make the game more fun.
7. Eve Gunjack

This game is about $10. "Eve Gunjack" shows the potential of mobile VR games. It shows that smartphones can be used for more than Candy Crush games. This space shooter includes excellent graphics. You're a gunner in an interplanetary fighter and must shoot down everything outside your ship.
The game was developed for VR. The motion can be dizzying at times, but not overly so. The ability to enjoy the amazing environment is definitely worth making your head spin a little. This is a good title for serious gamers.
8. Keep Talking and Nobody Explodes

This $10 VR game is a multi-player title. One member of the group must wear a Gear VR headset and the others play in the real world and use printed instructions.
The printed instructions give clues about how the VR headset wearer must disarm a bomb they've been looking at. This isn't a game you'll want to play forever but it's a great way to showcase the capabilities of VR titles. It offers a unique experience that you can share with your friends and family.
9. Esper

Here's another quality VR game for Gear VR. The puzzle game is set in a 1970s-like office. Your goal is to use your mind to solve problems. This involves the motion tracking of the Gear VR. The game includes several challenges and increases in difficulty as you move virtual items through different obstacles.
This game is somewhat like "Job Simulator" for HTC Vive. However, there are tougher brain teasers and it requires more patience than the Vive title. This game is quite addictive and it's easy to spend hours playing the VR game using your headset and phone. When you finish the game you could consider moving on to "Esper 2" to keep giving your brain a workout.